Twenty five years of excellence!
We've been one of Western Canada's leading manufacturer of cable assemblies and wire harnesses since 1988.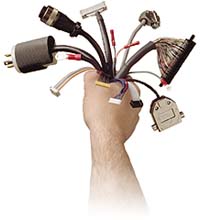 Whether you require something as simple as stripped wire or as complex as a large cable harness, i.e. 25+ feet long over 200+ circuits, Brockton Electronics offers the advantages of fast turn-around and competitive pricing on both short runs and production volume orders. You don't need to tie up capital in machinery. There's no need to consume precious resources making cables. Brockton provides a full turnkey manufacturing service, including procurement, testing, packaging and shipping. Contracting out to Brockton is a cost-effective way to get exactly what you need, on schedule.
Since we're ISO certified, you can be sure that everything we produce is subject to strict international quality standards.
We can also work with you and design and provide prototypes. That way, you can be 100% sure that what you're looking for is truly the best solution to your needs.