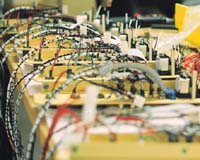 Wire Harnesses
Brockton can produce wire harnesses of virtually any configuration, using a variety of terminals and connectors. Harnesses can be bundled with lacing tape, tie wraps, polyester "expando" tubing or various types of shrinkable or PVC tubing. Brockton will produce harnesses to your specifications, using your production drawings or sample. All harnesses are fully tested and first articles are normally provided prior for your approval.
Cable Assemblies
We can provide a wide range of assemblies, including Computer Cables, Modem Cables, Power Cables, Telephone Cables, Network Cables, Automotive/Heavy Equipment, or anything else you require.
Ribbon Cables
Brockton produces flat ribbon cable assemblies including DIP plugs, RS232 (D-Subminiature) connectors and pin-and-socket header assemblies.
Communication Cables
Brockton produces a wide range of communication cables. These include BNC, TNC, SMA, SMB and N type connectors mated to coaxial cables. We handle a range of coax cable running from microcoax U.FL to LMR 400/600 size cable.
Chassis and Panel Assembly
In conjunction with production of harnesses, Brockton can help with assembly of panels, chassis and wiring boxes. We can supply all materials, including the panels themselves, or the customer can supply some or all of the parts.